Push Pull Fan
Brand heermei
Product origin made inchina
Delivery time Contact the merchant
Supply capacity The global
HEM push pull fan is mainly made up of blade, Centrifugal Opening Device,motor,outer
frame,protecting nets, supporting frames, shutters. It is made based on aerodynamic, effectively reduce
the wind resistance. The major parts are made of galvanized steel sheets and Stainless steel sheets.push pull fan are widely used in various types of buildings as farms, greenhouses, factory building.
Push Pull Fan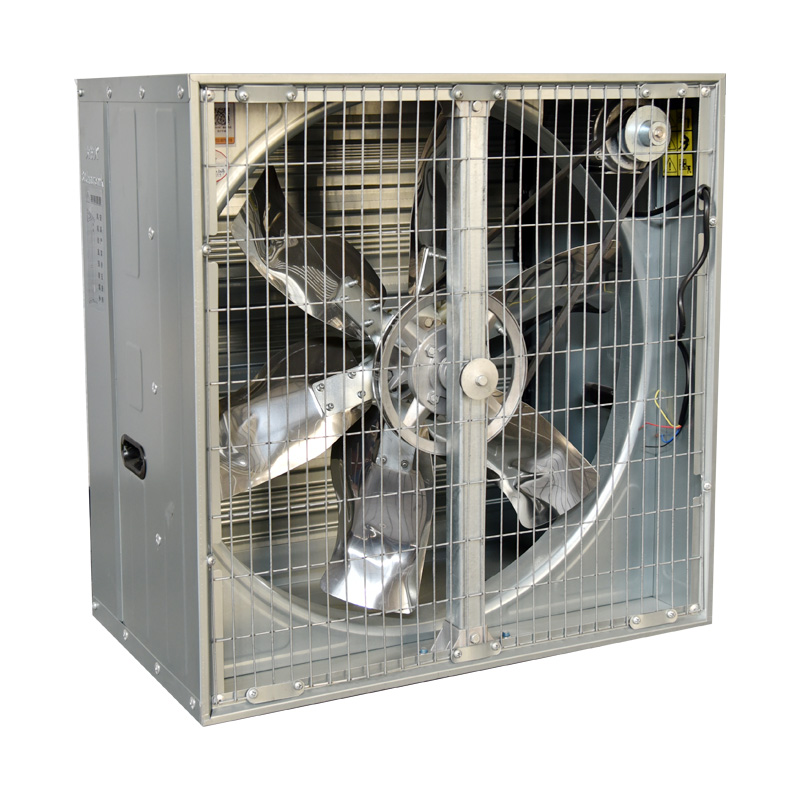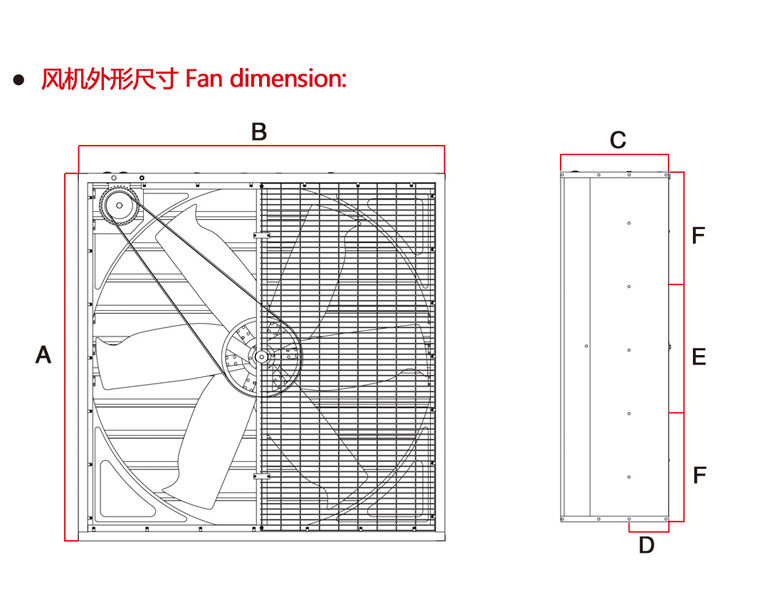 型号规格Model specifiications

风叶直径Diameter biades(mm)

电机转速

Moter rotational speed rpm(转/分)

风量

Air flow(m3/h)

噪音(分贝)Noise decibels

输入功率

Import power(W)

额定电压

Rated voltage(v)

高

Height(mm)

宽

Width(mm)

厚

Thickness(mm)

HEM-800

700(24in)

1400

26000

≤64

550

380

800

800
450

HEM-1000

900(36in)

1400

32000

≤64

750

380

1000

1000
450

HEM-1100

1000(44in)

1400

40000

≤

64

750

380

1100
1100

450

HEM-1380

1270(50in)

1400

44800

≤

64

1100

380

1380
1380

450

HEM-1530

1400(56in)

1400

58000

≤

64

1500

380

1530
1530

450
Fan blade are advanced through the computer dynamic balance measuring instrument calibration,Dynamic balance control in 1g,The fan running smoothly .The blower to smooth running, small vibration, low noise, enhances the stability of the whole machine.Fan blade materials are stainless steel, galvanized plate, aluminum alloy three kinds of optional material.

Fan blade is made of Krupp stainless steel by punch forming, no dust, attractive and durable. Special blades shape design ensure large air volume, no deformation, no broken, keep air volume same all the way. Thickness 1,2mm, surface finish BA grade.

Motor have domestic brand motor and Siemens motor can be chosen. Motor voltage and frequency can be customized. Domestic brand motor joining open phase protection device. When the lack of power, can carry out their own power to control; Motor protection grade IP 55, insulation class: F.

Centrifugal lype open mechanism can guarantee Ihal the shutters complelely open and close.

Make Ihe shutters opened lo reduce resistance, increase the air llow:Closed tight, can effectively prevenl the outdoor wind, light and dust Irom entering the house; The first use ol high-quality nylon PA66 material, lo ensure the servile life ol the open mechanism; Centrifugal type

304 stainless steel, plus special material, ensure Ihe intensity, not rusty, greatly improving Ihe service life.

Using good quality bell, to ensure that the service life , free Maintenance, The service life of the belt in a type A on Ihe basis of an increase of 3 times.

In order to facilitate handling, fan or both sides of Ihe fuselage design of the recessed plastic handle, convenient transportation, improve transport efficiency, and reasonable design, beautiful appearance, not lo hurt Ihe hand, not easy to damage.
Warranty:1 Year
Video outgoing-inspection:Provided
Machinery Test Report:Provided
Marketing Type:New product 2021
Warranty of core components:1 Year
Core Components:Motor
Place of Origin:China
Applicable Industries:Farms
Product name:Exhaust fan for farm
Usage:ventilating the farm
Material:Hot Dip Galvanized
Type:Push and pull fan
Weight:85kg
Advantage:
High Cost-effective
Size:1380*1380mm
MOQ:10
Package:Carton Package
Feature:Easily Assembled
After-sales Service Provided:Online support, Video technical support